The Power & Purpose of Ministry Training (GOFAMINT NA SEMINARY MOBILIZATION TEACHING)
Series: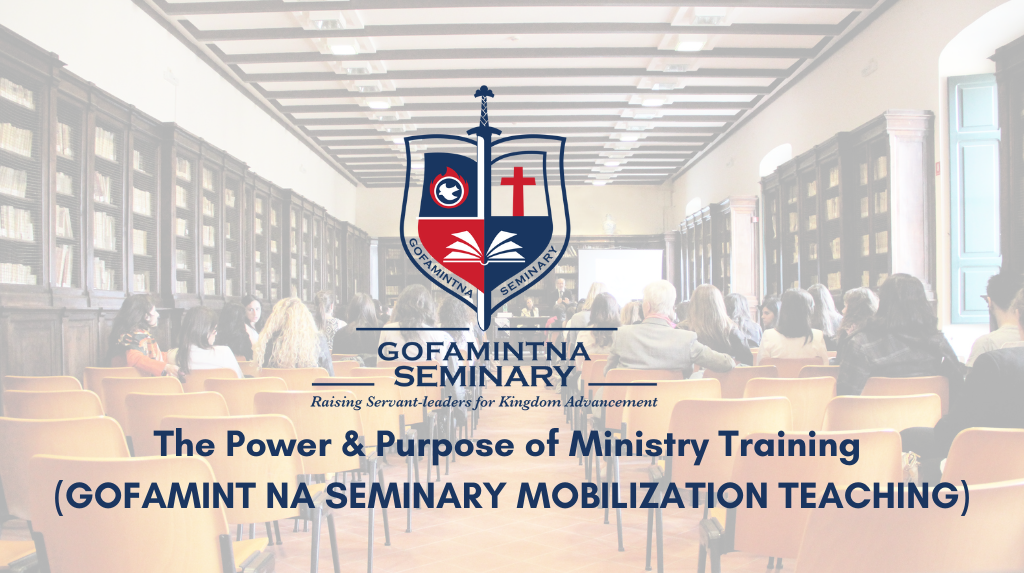 Summary
We bless the Lord for what He is doing in GOFAMINT North America. Today has been designated as our Seminary Mobilization Day. The goal is to increase the awareness and facilitate registration across our churches all through North America.
The first question to answer is 'what is a Seminary?'
A Seminary is an institution for preparing men and women for the work of the ministry by educating them in various aspects of theology and equipping them with relevant life skills to prepare them for fruitfulness in the church and the marketplace.
GOFAMINT NA Seminary is established "for men and women who exhibit the call and God's grace in their lives and have a great passion for the work of the ministry in GOFAMINT NA and around the world. The Seminary will provide the platform to become servant-leaders in Christ for advancing the gospel across the nations of the world."
The Vision is "to raise a new generation of exemplary, spirit-filled, doctrinally sound, and marketplace servant-leaders for advancing the gospel in GOFAMINT NA and around the world."
Our seminary would be a platform for continuous ministry training to provide relevant knowledge and necessary skills for effective succession planning and continuous ministry engagement. The seminary is not just for full-time ministers; it is open to everyone, young and old.
A. THE NEED FOR MINISTRY TRAINING.
"But you must continue in the things which you have learned and been assured of, knowing from whom you have learned them, and that from childhood you have known the Holy Scriptures, which are able to make you wise for salvation through faith which is in Christ Jesus. All Scripture is given by inspiration of God, and is profitable for doctrine, for reproof, for correction, for instruction in righteousness, that the man of God may be complete, thoroughly equipped for every good work." (2 Tim 3:14-17)
"And the things that you have heard from me among many witnesses, commit these to faithful men who will be able to teach others also." (2Tim 2:2)
It is often said that leaders are readers, and leaders are learners. The place of skill and expert knowledge in sustainable organizational growth cannot be overemphasized. Every kingdom giant is a learner. Paul charged Timothy, a young Church leader, to continue in the things he had been taught. Not only that, but he must also intentionally commit the same body of truth to others. No one is born with ministry knowledge and expertise. It is always learnt. It requires diligence and commitment.
Benefits of Ministry Training.
The following are some of the things God accomplishes through ministry trainings.
1. Ordinary men and women are turned into outstanding champions for the Kingdom (1 Sam. 22:2; 2Sam. 23:8-39).
2. One generation commends the work of God to the next generations (Ps 145:4).
3. Doctrinal understanding and biblical precepts are clarified and transferred (Ps 44:1; 2Tim 2:2).
4. Cutting-edge skills and expertise for sustainable ministry operations and global impact are developed (Ps 78:72).
5. Character that solidifies our walk with God and makes ministry acceptable is developed.
6. Through ministry training, men and women who become the custodians, defenders, and perpetrators of the covenant that established the church are raised in-house (Gen 14:14).
7. The spirit of apostolicity is imparted and sustained (Rom 1:11).
8. Detailed and deeper understanding of God's word is received, which may not be possible in a church service setting (Luke 8:9-15).
9. Doubt and theological ignorance are replaced with knowledge and understanding. (Mal 2:7)
This is why the Scripture says, "Study to shew thyself approved unto God, a workman that needeth not to be ashamed, rightly dividing the word of truth" (2Tim 2:15).
B. LEARNING EXAMPLES FROM THE NEW TESTAMENT
1. JESUS CHRIST: Jesus learned obedience by the things he suffered. The first 30 years of His existence on earth were silent years of learning. Little wonder He reasoned with teachers of His days. As a 12-year-old, "he was found among teachers listening to them and asking questions" (Lk 2:46). He referenced scriptures effortlessly and refused devilish offers through the weapon of the scriptures. He had a firm grip on the truth of God's word.
2. THE DISCIPLES: The first thing Jesus did was to select 12 disciples whom He could train to do what He'd called them to do. (Mathew 4:18-22) By this, Jesus showed an example that the first major step of any leader that looks forward to a sustainable and impactful ministry should be to find his replacement. The disciples were with Jesus for a space of about three years. He taught them both publicly and privately. He invested more time with them and taught them deeper truths than He shared with the crowd and general congregation.
3. APOSTLE PAUL, HIS PROTEGES & THE CHURCHES: Paul was a tireless learner and trainer. He gave himself to the unending study of God's word and deeply understood the culture of the world around him. Not only that, he also taught both in a structured setting and other informal settings. We read of Paul teaching in the School of Tyrannus (Acts 19:9). He gave so much attention to understanding and acquisition of revelational knowledge of God's word and committed himself to passing the knowledge through his preachings, epistles, and ministry interactions. Even when he was under house arrest and in prison, he was committed to passing the revelational knowledge of God's word to others. (Acts 28:16, 30) The following scripture further shows the high value Paul placed on learning and passing knowledge to others in his ministry.
"Hold on to the pattern of sound teaching you have heard from me, with the faith and love that are in Christ Jesus." (2Tim 1:13)
"He must have a strong belief in the trustworthy message he was taught; then he will be able to encourage others with wholesome teaching and show those who oppose it where they are wrong." (Titus 1:9, NLT)
With all these things in mind, dear brothers and sisters, stand firm and keep a strong grip on the teaching we passed on to you both in person and by letter. (2Thess 2:15)
C. GOFAMINT CULTURE OF LEARNING & TRAINING

The Gospel Faith Mission International is a New Testament church commissioned by God to meet the needs of mankind by the Word of His grace and the power of God. We are both a learning and teaching Church after the order of the Early Church in the Acts of the Apostles. The scripture says, "They spent their time learning from the apostles, and they were like family to each other. They also broke bread and prayed together. (Acts 2:42, CEV)
Our father in the Lord, the General Overseer, Pastor Elijah Abina said, "It is dangerous to raise immature members that are being drifted by every wind of false doctrines like children who can't differentiate between right or wrong."
The Gospel Faith Mission International has been known as a learning and training Church. Many of our fathers in the faith were ordinary men who were called and trained to become renowned church leaders and captains of ministry operations in various parts of the world. We started our Bible school in NIGERIA on January 3, 1972 and graduated the first set of leaders in November 1975. We have continued to train many full-time and part-time ministers of the Gospel who are doing exploits for the Kingdom of God around the world till date.

GOFAMINT NA, as a global and apostolic hub of the church believes in the importance of ministry training. We have had many short-term structured pieces of training in the past for some of our leaders, and the impact has been tremendous. Those who attended our Basic and Advanced Leadership Trainings for Deacons, Deaconesses, Elders, and Pastors would truly testify that it is both revelational and transformative.
Our AGO Foreign Missions, Pastor Sunday Adu said:
"The vision behind the training is to expose men and women to advanced leadership principles and resources that would help them handle their responsibility with understanding (Prov.16:22). It also enables them to catch the spirit of apostolicity.
"Apostolic movement (apostolicity) involves a radical community of disciples, centered on the Lordship of Jesus Christ, empowered by the Spirit, built squarely on a fivefold ministry, organized around mission where everyone (not just professionals) is considered an empowered agent to reach the unreached, plant churches and establish the saints."
In the apostolic movement, every believer is a church planter, and every church is a church-planting church. Every believer has ecclesia (church) in him or her, and every ecclesia is responsible for the reproduction of others. In other words, they all make a movement.
God is set to raise armies for Himself in GOFAMINT NA, that would take the gospel banner to all the States of America and the nations, and this Institute is a little fire God is kindling to make it a reality."
GOFAMINTNA Seminary takes this vision further, creating opportunities for both young and old to be an active part of advancing God's purpose in North America and around the world.
Our National Overseer, Pastor Taiwo Fagbuyi said, "if you want to remain fresh, deep, profound, relevant, impactful and influential in life and ministry, you cannot but obey the laws of continuous education, called the principle of C.A.N.E.I - Constant And Never Ending Improvement. Do everything to keep equipping yourself to become a better and more capable minister of the gospel, knowing that the more you equip yourself, the more you'll empower and enable others to rise and shine. Remember, the ministry's bottom line is empowering others to be their best for the Lord. And you can only continue to do that when you don't stop equipping yourself rightly."
The GOFAMINT NA seminary is your God-given platform to achieve this goal of continuous learning for unstoppable growth in life and ministry.
D. THE VISION & OPERATIONAL STRATEGY OF GOFAMINT NA SEMINARY
Establishing and operating a Seminary is our leadership response to a dire need – which is raising a new generation of leaders for succession. With this Seminary, we are creating our standard to meet this immediate need in such a way as to create a pathway for continuity and advancement within an acceptable framework.

Our goal is that by the end of the program, the student should not only have been transformed but should have also grown and become a trained minister of Christ, ready for all good works. This would be done in such a way that if this is the only level a person can engage, they would still be a proficient minister of Christ. With God's help, our curriculum would seek to balance the three purposes:
· Personal Transformation
· Spiritual Growth and
· Ministry Readiness.

We are starting with a one-year Certificate of Ministry Program.
The following points should be borne in mind:
§ Since we have never been this way, we believe it is proper and wise to begin at this primary level to meet our immediate need – a shortage of men for the ministry, and then grow from there.
§ A minimum entry qualification of GED or its equivalent is required to allow everyone in GOFAMINT NA to participate in the program.
§ We are starting with foundations in theological education.
§ The academic load would not be too heavy, and the technology would be simple and user-friendly to encourage everyone to participate, irrespective of their other life engagements.
§ The Certificate Program would be 100% virtual/online, and the classes would be in modules.
§ The start date is May 2023.
§ The first set of Students would graduate during the Convention 2024.
§ The application fee is $50, Tuition is $50/credit hour ($900 for 18 Credits), Technology Fee and others is $50 as applicable, for a total of $1,000. The national leadership has highly subsidized tuition to encourage enrollment.
§ Registration/admission process is ongoing. The application portal is www.gofamintnaseminary.org.

Students should expect to have a great learning experience with an experienced and resourceful faculty. The Seminary Administrator, Pastor (Dr) Tosin Oladapo, has the requisite academic training, ministry experience, and in-house knowledge of GOFAMINT NA culture and operations necessary for the excellent administration of the Seminary.
E. WHO CAN ATTEND THE SEMINARY
§ Chosen Generations members.
§ Anyone who does not have similar ministry training or qualification.
§ Deacons and Deaconesses.
§ Elders, Assistant Pastors and Pastors.
With God's help, as we work towards standardizing our operations across the board, the Certificate of Ministry program shall in the near future be made a requirement for appointments into ministry and leadership positions in GOFAMINT NA.

CONCLUSION
"We are now faced with the fact that tomorrow is today. We are confronted with the fierce urgency of now. In this unfolding conundrum of life and history, there "is" such a thing as being too late. This is no time for apathy or complacency. This is a time for vigorous and positive action." Martin Luther King Jr.
This is our call to action. We want as many people as possible to register for the program today. This is the time to act.
"Also I heard the voice of the Lord, saying: "Whom shall I send, And who will go for Us?" Then I said, "Here am I! Send me." (Is 6:8)
Please go to www.gofamintnaseminary.org to register now. Jesus is Lord!
Speaker: Pastor Taiwo Fagbuyi
March 9, 2023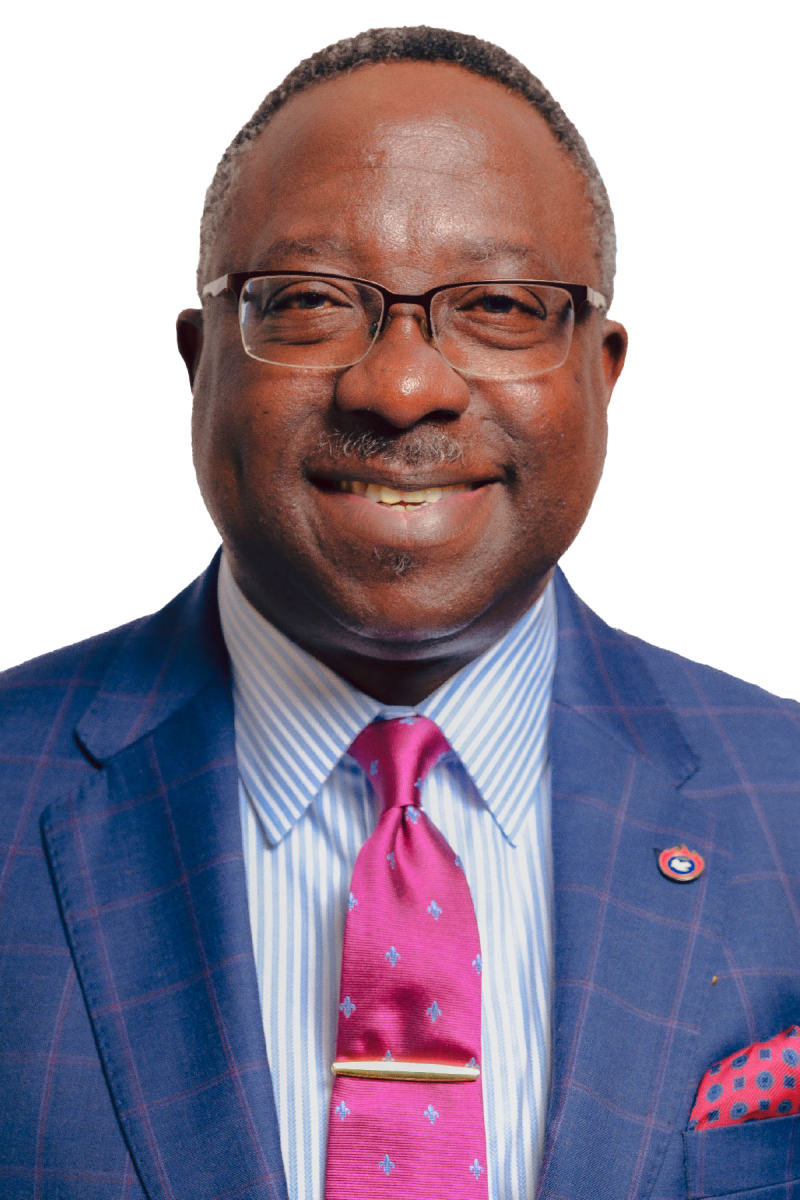 Pastor Taiwo Fagbuyi
National Overseer
Message Notes
You can add your own personal sermon notes along the way. When you're finished, you'll be able to email or download your notes.